Summary:PmWiki implementation of iCalendar event RFC/standards
Version:
Prerequisites:
Status:pre-alpha
Categories:
Questions answered by this recipe
This section is optional; use it to indicate the types of questions (if any) this recipe is intended to answer.
Can I have a PmWiki event calendar? Can I import & export iCalendar files to/from my calendaring application or other websites?
Description
Enter your recipe's description here.
To change the current face of calendaring in PmWiki from a blog/rant tool, to a group/event/scheduling collaboration tool.
http://tools.ietf.org/html/rfc2445
Notes
First I want to worry about implementing events. I'm not worrying about todos, free time/busy time, journaling, etc. until we've wrestled with events.
I have one big(!) bump in the road -- I'll have to look at the RFC closer -- I have a client who wants a "Should be happening this month" type of event for recurring events in the far future that are "Usually" in a certain month, but the dates float and have not been determined yet, so that an "Coming in April...." could list a floating event that happens every April.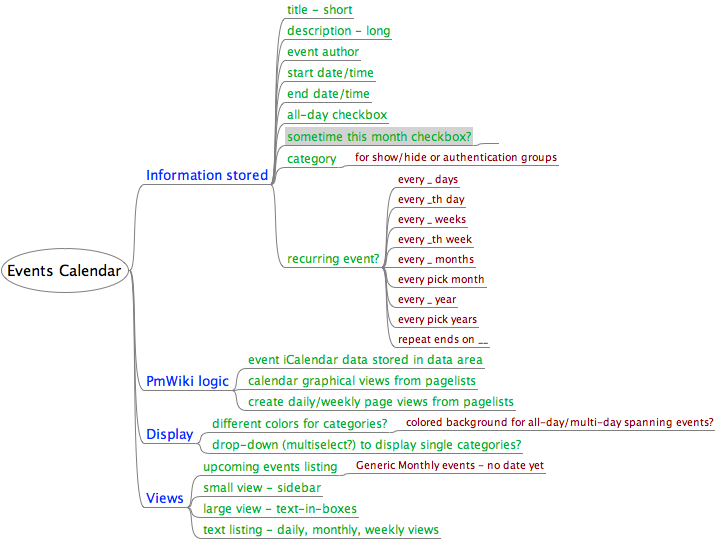 Release Notes
There is no release yet!!
If the recipe has multiple releases, then release notes can be placed here. Note that it's often easier for people to work with "release dates" instead of "version numbers".
Comments
Please place comments on ICalendarEvents-Talk:)See Discussion at ICalendarEvents-Talk
See Also
Contributors